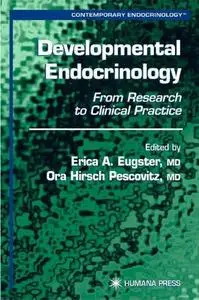 Developmental Endocrinology: From Research to Clinical Practice (Contemporary Endocrinology) By Erica A. Eugster, Ora Hirsch Pescovitz
2001 | 436 Pages | ISBN: 0896038602 | PDF | 3 MB
Leading researchers comprehensively translate all the latest scientific information regarding endocrine physiology and development into an understanding of the clinical pathogenesis, diagnosis, and treatment of endocrine disease. Organized by endocrine system, each section of the book concisely describes the chronological development of the human organism, from the fetal/prenatal period through childhood, adolescence, and in some cases, into adulthood. The prenatal sections review recent discoveries concerning transcription factors, homeobox genes, and human molecular mutations-the basic processes governing prenatal development of the individual endocrine organs-and detail the pathophysiology, clinical characteristics, and treatment of pediatric endocrine disorders.